For over 25 years, Australian jewellery designer Simone Walsh has combined silver, gold and gemstones to create a delicate and delightful collection of unique Australian jewellery. If you love Australian jewellers, then you'll want to know more about us, so read on ...
Simone Walsh Designs is a small, independent and family-run Australian jewellery brand. We're based on the Fleurieu Peninsula in a beautiful spot near the ocean outside Adelaide in South Australia. Simone is the founder and creative director of our business.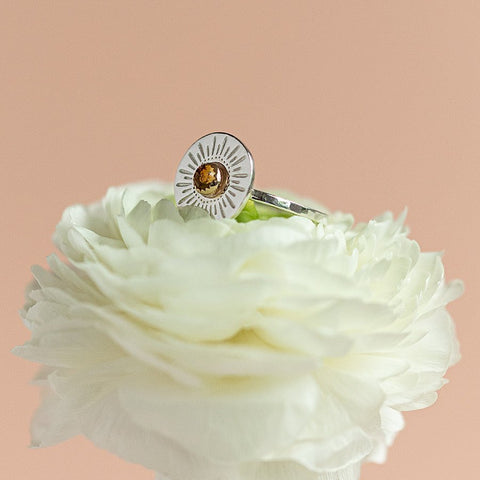 Our Australian jewellery brand
Are you a creative woman with a unique sense of style? Who strives to be just like herself rather than being like everybody else?
You're never too serious, love being adventurous and you find delight in beautiful and unique things.
Does this sound like you? Then we're sure you'll love our unique jewellery designs, created in Australia and made with love in gold, silver and gems.
We're passionate about making our jewellery with high quality precious materials like sterling silver, gold and gemstones. All of our jewellery is nickel free and we aim to run a sustainable, ethical and eco-friendly jewellery store. Learn why it's a great idea to shop small, shop local & shop handmade with independent design businesses like Simone Walsh Jewellery.
Our unique designs have entranced customers around the world. Simone's current range can be found exclusively in our online jewellery shop in Australia.
Read below to learn about our history and how our jewellery designs are made.
---
Australian jeweller Simone Walsh: in her own words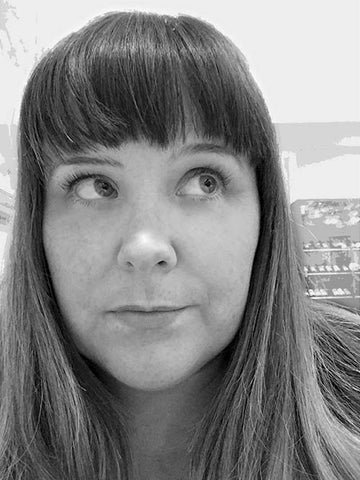 I've always been drawn towards the sparkly, unique and ornamental. When I was a small kid growing up in Adelaide I had a collection of unusual and ornate vintage buttons that I'd play with for hours on end, arranging them in patterns and making up stories about their personalities.
These days, you can still see some of that continuing fascination with ornament and pattern in my jewellery designs.
In around 1993 my love of beautiful and intriguing objects came back into focus when I stumbled across a simple yet fascinating statement necklace made in woven wire and glass. I really wanted to understand how such a thing could be put together, so I got myself some pliers, wire and marbles to see if I could make something like the unusual design for myself.
I was immediately hooked. Within a year I had decided to study visual arts full time, majoring in jewellery: I wanted to learn the more advanced skills needed to create the designs I could imagine. 
In my first year of study, I won the Most Outstanding Student award for jewellery. Eventually I completed a Bachelor of Visual Arts with a Jewellery & Metal Major at Sydney College of the Arts, University of Sydney. I also created artworks and participated in jewellery and sculpture exhibitions in Australia over a number of years.
Now, over 25 years after discovering that unusual necklace, what began as a small part time hobby has grown into a blooming business and an Australian jewellery brand that caters to creative women who love unique jewellery.
Silver necklaces
&
gold earrings Australia
Prior to becoming a full time jewellery designer, I worked in the music industry and later the the not-for-profit sector for several years. I also spent time shuttling between London, Sydney and Adelaide, while trying to figure out what to do with my life. No matter what I was up to, my desire to design and make jewellery kept coming back to the fore.
Back in 2006 I started selling my designs online in an Etsy jewellery shop, when Etsy was still brand new. It was intended to be an experiment: it was early days for online shopping and I was very sceptical that people would ever want to buy jewellery online.
I was quickly proven wrong and my little shop was so much more successful than I could have imagined, with my designs flying off to customers all over the world (and me struggling to keep up with orders while still having a regular job!).
By 2009 I had opened my own independent online shop in Australia and had become a full time jewellery designer with a growing small business. Since then my husband, Colin, has joined our business and we've started partnering with other artisans to help us keep up.
We have thousands of customers all around Australia and the world and I feel so grateful to every single one of them. They've all helped to make our small Australian jewellery brand a success, which allows me to do what I most love for a living. So: thank you.
It's been an exciting journey and I'm really looking forward to whatever comes next.
Learn more about Simone's jewellery making history.
How our jewellery is made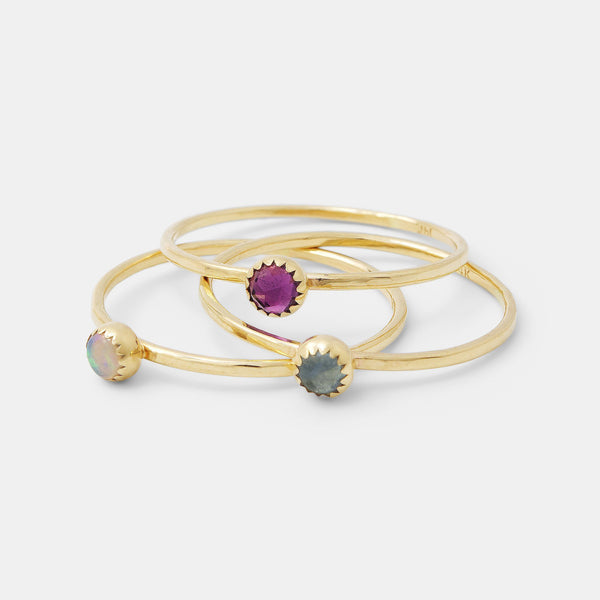 Handmade gold rings for women
Historically Simone made all of her designs from scratch in her Australian workshop. As our jewellery business has grown, in recent years we've sought help to keep up with demand and to make our often very intricate designs possible. Read more about why we made this change.
The majority of our jewellery pieces continue to be extensively worked, assembled and finished by us in our South Australian workshop, with a number of designs still being entirely handmade right here. These solid gold rings are just one example.
Today in order to create many of our components we partner with an ethically-run jewellery workshop in Indonesia which is staffed by skilled local artisans. These components are handmade for us to Simone's unique designs and prototypes.
This makes our business much more sustainable and helps it to continue, and in turn we are able to help generate work for our partners, which has been especially important during the pandemic.
Watch Simone create a handmade chain
Want to see some jewellery making in action? Our super sparkly handmade silver chain has been one of Simone's personal favourite designs for years. It's a beautiful original sterling silver jewellery design. Each one is entirely made by hand by Simone personally, with every link in the chain having its own unique finish, giving you a truly special piece of precious jewellery.
Watch a time lapse video of Simone making this simple and delicate contemporary silver chain. Also check out our unique chain necklaces.
Our ethical jewellery
The world's resources are precious and we truly believe in ethical and sustainable design - and of course we have a particular interest in jewellery. We aim to make our business as ethical and environmentally friendly as we can.
Read more about our eco-friendly jewellery and how we work to run an ethical small business, including our efforts to make our packaging as environmentally friendly as possible.
---
Discover the magic of Australian designer jewellery
Reasons to shop with us:
Australian created jewellery
Unique designs exclusively available in our own online store
Jewellery made in quality gold, silver & gemstones
Your happiness is guaranteed
We love sending gifts for you
You'll get free shipping in Australia
We're an Afterpay jewellery store
You'll get a happy buzz from supporting an Australian small business
Read testimonials from happy customers in Australia and around the world.
You'll find: sterling silver earrings, necklaces with pendant, stud earrings, stacking rings, gold and silver bracelets, silver rings, dangle earrings, gold necklaces for women, gemstone beaded necklaces, gemstone rings, Christmas pudding coins and much more.