Rings for Women
Finger sizes vary a lot from one person to the next and it can be almost impossible to get your ring size right just by guessing. It's important to know your size before buying rings online and our ring size chart below can help you work out sizing in USA, European, British and Australian ring size systems for both men and women.
Ring size measurements & conversion
If you already know your ring measurement or need to convert a ring size between different measuring systems, scroll down to our international and Australian Ring Size Chart. It includes ring size measurements in mm and inches, along with information about the different international ring sizing systems.
Need more information about how work out your ring size in the first place? Read on to learn how to get it right.
Measure your ring size
If you don't know your ring size or don't know how to get correct measurements to use when referring to the ring sizing chart below, then you're in luck: we're here to help. Scroll down to learn more.
We highly recommend investing in one of our very handy ring size kits. Each kit contains a reusable ring sizer belt, our handy ring size measuring and conversion guide and even a discount code to use when you return to shop for rings with Simone Walsh Jewellery.
Not only will the ring sizer included in the kit give you peace of mind when buying gold, silver or gemstones rings, you can also reuse it when needed or take measurements for friends and family.
Read on for other ways to get an accurate ring size and tips on how to measure.
Visit our ring measuring guide
Because we want to be sure that you get an accurate ring size measurement, we've put together a handy guide on How to Measure Your Ring Size. It includes our top tips for getting an accurate ring size measurement at home, along with different methods for measuring your finger size. There's even a handy PDF to download to measure an existing ring.
Once you've got your ring size worked out, come back to this page and scroll down to our accurate ring size chart below, where you can see your size in various international ring sizing systems and with measurements in both metric and inches.
You're welcome :)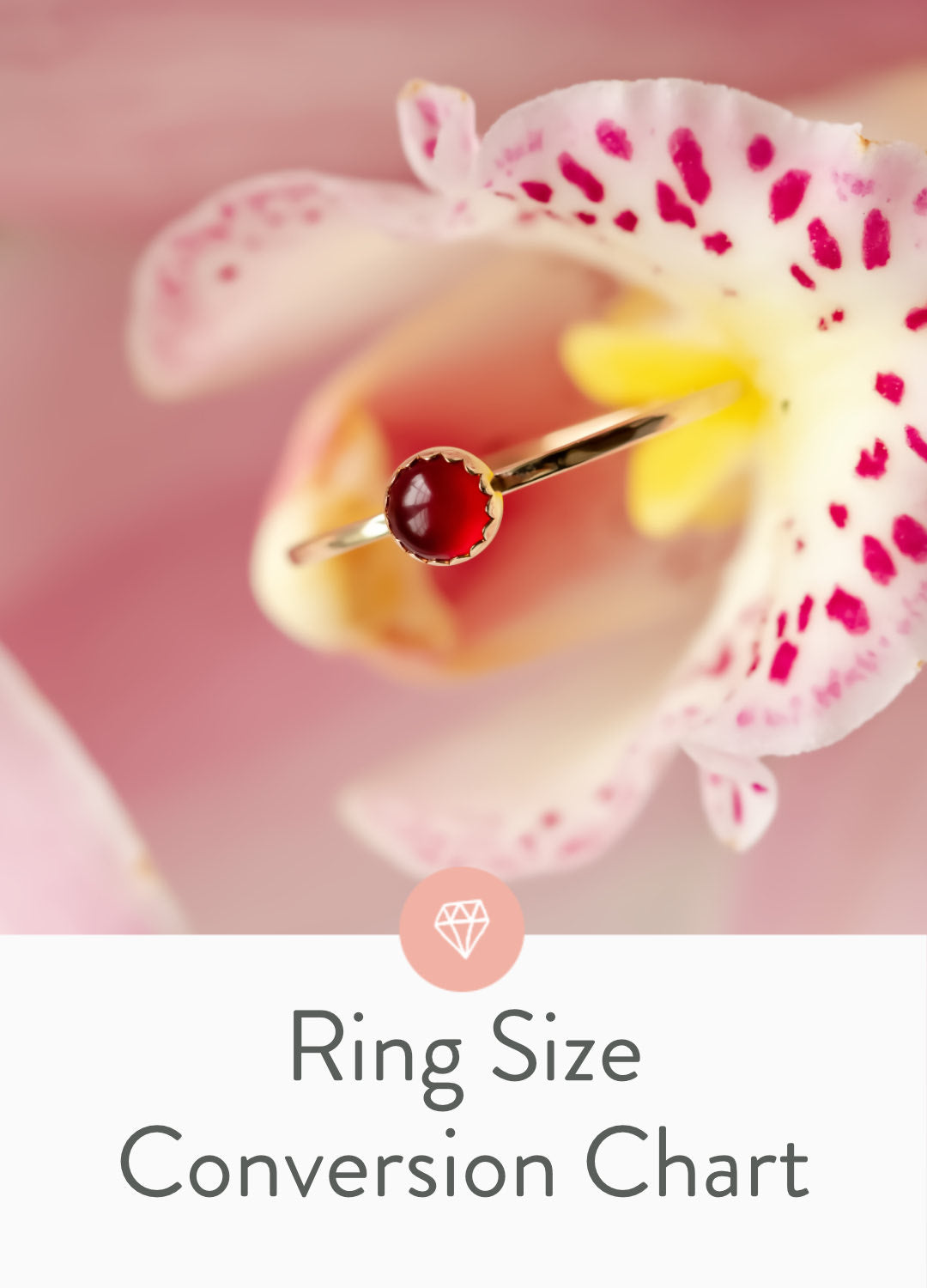 ---
Ring size chart:
Other jewellery articles:
Below is our ring size conversion chart. It shows sizes in diameter and circumference in both mm and inches. There is no difference between men's and women's ring sizes, so this chart applies to everybody.
We've included conversions for the numerical (USA), alphabetical (or Wheatsheaf) and European ring sizes. The alphabetical or Wheatsheaf system is used for Australian ring sizes, but most jewellers in Australia will also accept the USA numerical system.
ISO sizes are used in some European countries, but these size numbers simply correspond with the internal circumference in millimetres. Some European countries use a slightly different system where 40mm is deducted from the ISO size (so a ring with a 44mm circumference will be a size 4 in this system).
Note that measurements for different international ring sizing systems don't precisely align, so this chart shows a close equivalence across the different systems based on commonly used USA ring size measurements. These differences are tiny enough that they shouldn't affect your chosen ring size, no matter which sizing system you're using.
(On a device? Best viewed in landscape)
Inside Diameter:
Inside Circumference:
Ring Sizes:
MM
Inches
MM


(ISO size)

Inches
Numerical


(USA, Canada, etc.)

Alphabetical


(Australia, UK, NZ, etc.)

European


(ISO minus 40mm)

11.6 mm
0.458"
36.5 mm
1.438"
0
11.8 mm
0.466"
37.2 mm
1.463"
1/4
12 mm
0.474"
37.8 mm
1.488"
2/4
A
12.2 mm
0.482"
38.4 mm
1.513"
3/4
A 1/2
12.4 mm
0.49"
39.1 mm
1.539"
1
B
12.6 mm
0.498"
39.7 mm
1.564"
1 1/4
B 1/2
12.9 mm
0.506"
40.4 mm
1.589"
1 1/2
C
0
13.1 mm
0.514"
41 mm
1.614"
1 3/4
C 1/2
1
13.3 mm
0.522"
41.6 mm
1.639"
2
D
13.5 mm
0.53"
42.3 mm
1.664"
2 1/4
D 1/2
2
13.7 mm
0.538"
42.9 mm
1.689"
2 1/2
E
3
13.9 mm
0.546"
43.5 mm
1.714"
2 3/4
E 1/2
14.1 mm
0.554"
44.2 mm
1.74"
3
F
4
14.3 mm
0.562"
44.8 mm
1.765"
3 1/4
F 1/2
14.3 mm
0.562"
45 mm
1.77"
-
G
5
14.5 mm
0.57"
45.5 mm
1.79"
3 1/2
G 1/2
14.7 mm
0.578"
46.1 mm
1.815"
3 3/4
H
6
14.9 mm
0.586"
46.7 mm
1.84"
4
H 1/2
15.1 mm
0.594"
47.4 mm
1.865"
4 1/4
I
7
15.3 mm
0.602"
48 mm
1.89"
4 1/2
I 1/2
8
15.5 mm
0.61"
48.7 mm
1.915"
4 3/4
J
15.7 mm
0.618"
49.3 mm
1.941"
5
J 1/2
9
15.9 mm
0.626"
49.9 mm
1.966"
5 1/4
K
10
16.1 mm
0.634"
50.6 mm
1.991"
5 1/2
K 1/2
16.3 mm
0.642"
51.2 mm
2.016"
5 3/4
L
11
16.5 mm
0.65"
51.8 mm
2.041"
6
L 1/2
16.7 mm
0.658"
52.5 mm
2.066"
6 1/4
M
12
16.9 mm
0.666"
53.1 mm
2.091"
6 1/2
M 1/2
13
17.1 mm
0.674"
53.8 mm
2.116"
6 3/4
N
17.3 mm
0.682"
54.4 mm
2.141"
7
N 1/2
14
17.5 mm
0.69"
55 mm
2.167"
7 1/4
O
15
17.7 mm
0.698"
55.7 mm
2.192"
7 1/2
O 1/2
17.9 mm
0.706"
56.3 mm
2.217"
7 3/4
P
16
18.1 mm
0.714"
56.9 mm
2.242"
8
P 1/2
17
18.3 mm
0.722"
57.6 mm
2.267"
8 1/4
Q
18.5 mm
0.73"
58.2 mm
2.292"
8 1/2
Q 1/2
18
18.7 mm
0.738"
58.9 mm
2.317"
8 3/4
R
19
18.9 mm
0.746"
59.5 mm
2.342"
9
R 1/2
19.2 mm
0.754"
60.1 mm
2.368"
9 1/4
S
20
19.4 mm
0.762"
60.8 mm
2.393"
9 1/2
S 1/2
21
19.6 mm
0.77"
61.4 mm
2.418"
9 3/4
T
19.8 mm
0.778"
62.1 mm
2.443"
10
T 1/2
22
20 mm
0.786"
62.7 mm
2.468"
10 1/4
U
20.2 mm
0.794"
63.3 mm
2.493"
10 1/2
U 1/2
23
20.4 mm
0.802"
64 mm
2.518"
10 3/4
V
24
20.6 mm
0.81"
64.6 mm
2.543"
11
V 1/2
20.8 mm
0.818"
65.2 mm
2.569"
11 1/4
W
25
21 mm
0.826"
65.9 mm
2.594"
11 1/2
W 1/2
26
21.2 mm
0.834"
66.5 mm
2.619"
11 3/4
X
21.4 mm
0.842"
67.2 mm
2.644"
12
X 1/2
27
21.6 mm
0.85"
67.8 mm
2.669"
12 1/4
Y
28
21.8 mm
0.858"
68.4 mm
2.694"
12 1/2
Y 1/2
22 mm
0.866"
69.1 mm
2.719"
12 3/4
Z
29
22.2 mm
0.874"
69.7 mm
2.744"
13
Z 1/2
22.4 mm
0.882"
70.3 mm
2.769"
13 1/4
Z1
30
22.6 mm
0.89"
71 mm
2.795"
13 1/2
31
22.8 mm
0.898"
71.6 mm
2.82"
13 3/4
Z2
23 mm
0.906"
72.3 mm
2.845"
14
32
23.2 mm
0.914"
72.9 mm
2.87"
14 1/4
Z3
33
23.4 mm
0.922"
73.5 mm
2.895"
14 1/2
23.6 mm
0.93"
74.2 mm
2.92"
14 3/4
Z4
34
23.8 mm
0.938"
74.8 mm
2.945"
15
35
24 mm
0.946"
75.4 mm
2.97"
15 1/4
24.2 mm
0.954"
76.1 mm
2.996"
15 1/2
36
24.4 mm
0.962"
76.7 mm
3.021"
15 3/4
37
24.6 mm
0.97"
77.4 mm
3.046"
16
Other jewellery articles: