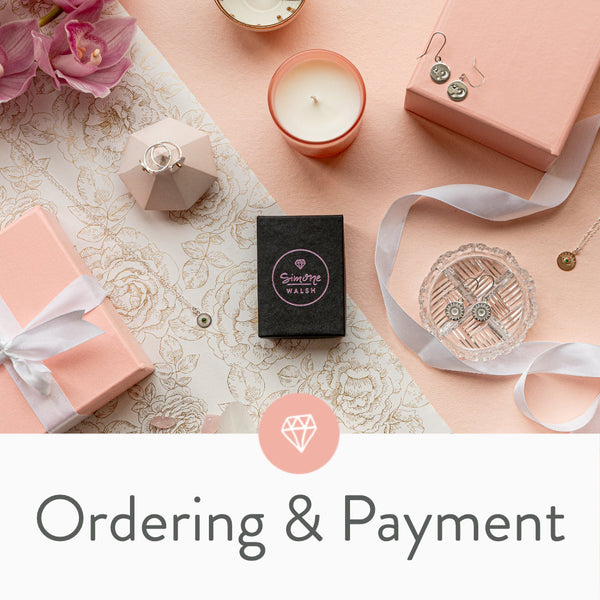 You're in the right place to learn about how to place an order, make payment and how secure your details will be in our online jewellery shop.
Our checkout is safe, easy and very secure. Your payment will be processed securely and Simone Walsh Jewellery will never be in possession of your card details. You can make your payment using a debit or credit card, or with a Paypal account if you have one.
You can also read our full terms of service.
Read on to learn more about ordering, payment and security. Click on the links below to show or hide the details:
Security:

Our checkout is safe, easy and secure. It's powered by Shopify, a highly trusted ecommerce provider which complies with the highest level of PCI (Payment Card Industry) standards. That means your online payment will be processed securely and your information will be kept safe. In particular Simone Walsh Jewellery will never see or be in possession of your full credit card details or other sensitive payment information.

Privacy:

We take your privacy seriously. Unless you opt in to our mailing list we won't contact you other than in relation to your order. If you do choose to join our mailing list, you can opt out at any time. Learn more about our privacy policies.
On the shopping cart page check your order and fill in the gift and special instruction details if needed.

When you click to continue checkout you'll be taken to a secure Shopify checkout page. You'll be able to select your payment method and enter a discount code if you have one, along with entering your delivery address, which will finalise your shipping costs (note that shipping is free in Australia for most orders).

Before making payment you'll be be given the total cost of your order. You can choose not to proceed with your order at any point prior to completing your payment.

Generally your order will be shipped within 1-2 business days once payment is received. Learn more about shipping.
When checking out you can choose to make payment securely using your credit card, Paypal, Shop Pay or Afterpay if you're in Australia (see below). We also accept Apple Pay and Google Pay. Accepted credit cards are Visa, Mastercard and American Express.
We're an Afterpay online store, currently only for Australian customers. With Afterpay you can place your order and we'll ship your order out as normal, but you'll then pay for your order in fortnightly instalments over 6 or 8 weeks.

As with a credit card or Paypal transaction we have no direct involvement in the payment arrangement you make with Afterpay: we are never in possession of your credit card details and Afterpay's payment facility is secure.

Is there an additional cost?

No, there is no interest charged by Afterpay or added fees to use this service. Please see Afterpay Terms for further information.

Who can use Afterpay?

Afterpay is currently only available in our store to Australian customers over 18 years of age and who have an Australian debit or credit card.

If I paid using Afterpay can I make a return?

Yes. Just follow our usual returns and exchanges procedures to receive a refund. Afterpay will take care of any refunds, which will go back to the card you have registered with them.

I want to pay my order off sooner, can I do this?

You may be able to, but you will need to contact Afterpay directly to discuss this.
Sorry, we are not currently accepting direct bank deposit payments via the online shop. If you would like to make a payment in this way please contact us to make the arrangements.
In the situation that you opt to pay using a Paypal account which has both insufficient funds and also isn't linked to a credit card, then an eCheque will be generated, which allows time for the funds to be withdrawn by Paypal from your bank account. This can take several days and we will be unable to begin processing your order until the funds have cleared into our account. We recommend you choose a different payment method in this circumstance.
We don't accept payments by cheque, money order or wire transfer.
If your order is a gift we are more than happy to send it directly to your gift recipient. Please check the button on the shopping cart page to tell us if this is the case.

Each piece of jewellery will be packaged in a cotton filled gift box including care instructions and an invoice/receipt is never included with our deliveries.

You can opt to include a gift card or just a note (the latter will be printed on a slip of paper). You can also choose to add gift wrapping in the shopping cart.

Read more about sending gifts on our shipping page.
GST is included in the price of all Australian purchases from our jewellery store. We don't collect taxes for other jurisdictions.

You may be subject to local customs and import duties if your order is being sent outside of Australia. This is the responsibility of the customer to determine and to make any required payments as each country is different. In our experience, most of our orders do not attract such fees and taxes.

United Kingdom VAT:

If you're in the UK, note that we are not registered to collect VAT as part of the recently changed Brexit arrangements. You should check with local authorities about the implications of this prior to placing an order with us.

Visit the shipping page to learn more about this issue.
Here is a brief rundown of our terms of sale. Read our full terms of service for full details.

Returns & exchanges:

Your happiness is guaranteed: if your purchase is unsuitable for any reason, you can return it for a refund within 30 days of delivery. Learn about our returns, exchanges and repairs policies. Otherwise if your purchase is faulty, was damaged during delivery or if we made an error, you can also organise a return or exchange.

Note that refunded payments may take a few business days to clear back to your account. This is beyond our control.

Pricing:

Pricing of items for sale and shipping costs may change at any time without notice.

Fraud detection:

Occasionally orders are flagged by our shopping cart as being potentially fraudulent. If this is the case we are required to contact you to verify the last four digits of the credit card used and to obtain photo ID which matches the name on the credit card. If you're not willing or able to assist us we will need to cancel your order and refund the payment.

On some occasions we may immediately cancel and refund highly suspicious orders without further research. This occurs rarely.

Refusal of sale:

While it's highly unlikely to occur, Simone Walsh Designs reserves the right to refuse an order for any reason. Should this happen any payment made will be refunded as quickly as possible.