Simone Walsh Jewellery creates unique silver, gold & gemstone jewellery - and we've been doing it for over 25 years. We're a small family-run business. Learn more about Australian jewellery designer Simone Walsh. Here are some other handy links to get you started ...
Featured links
Other links
About us
---
About us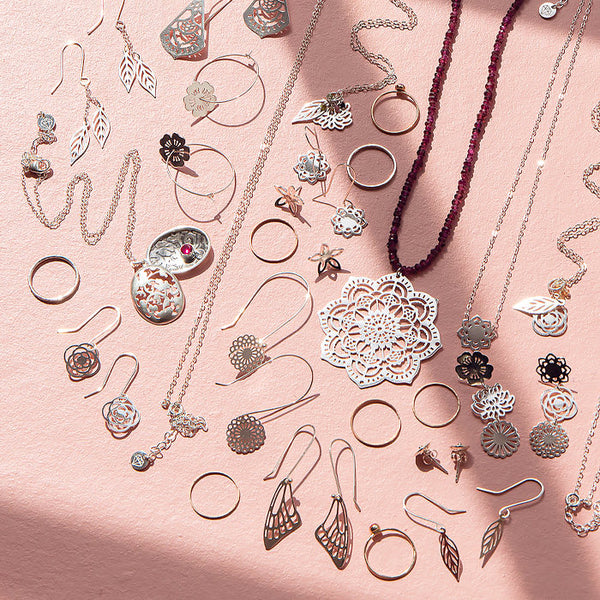 Every piece in our Australian jewellery store is created by Simone Walsh, an Australian jewellery designer based in the Fleurieu Peninsula, outside Adelaide in South Australia. For over 25 years Simone has been designing and making contemporary fine and fashion jewellery. Today Simone Walsh Jewellery is a family run small business.
Our jewellery designs are handmade in high quality precious materials: you'll find sterling silver jewellery, along with gold jewellery and gemstone jewellery.
Our online jewellery shop features designs which are exclusively available right here: birthstone jewellery, silver necklaces, handmade silver rings, statement pendants, simple stud earrings, rose gold jewellery, handmade silver chains, stackable rings, gemstone earrings, sterling silver necklaces and also our famous silver Christmas pudding coins.
If you're a creative women with your own unique sense of style, then we're sure you'll find something you'll love in our collection.
Our unique designs also make gorgeous gift ideas for women. We love sending gifts directly to recipients for our customers: you can choose to include a gift card, gift wrapping and a personal message to make your jewellery gift extra special.
Read testimonials from our happy customers around  the world.
Shipping is free for most orders in Australia. Learn more about shipping. We're also an Afterpay jewellery store and you'll get our money back happiness guarantee with every order: truly great customer service is a very high priority for us.